Salt Lake City, Utah - Ballet West

Ski Mecca and National Treasure

December 4, 2010 - By Brad Maxwell
A city surrounded by towering white snow covered mountains, buzzing with skiers dressed in the latest alpine styles. Super-stars of winter sports on a white carpet of powdered snow; Salt Lake City is a national mecca for Skiing. The talk around town is usually about the view enhanced mountain's most exhilarating ski-runs and those who were able to pounce on the powder for the first time and carve fresh trails where they were the first to travel. But this city treasures snow for more than just skiing. Snow is also falling on the stage of the Capital Theater where our nation is realizing the value of this national treasure -- Ballet West!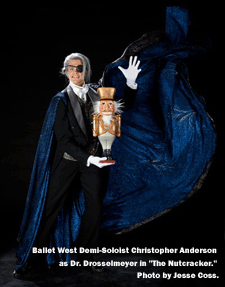 In the world of ballet, there is a short list of internationally renowned ballet companies from Russia, Europe, Cuba, Canada and the United States. Although we may have hundreds of community and regional ballets across the nation, there is a relatively small number which are considered national companies. There are even fewer national companies in the Western United States where our pioneer grandparents settled the Wild West a little over a hundred years ago. In the Western Region of our nation where a city as large as Los Angeles, which is filled with the rich and famous of performing arts, can't even provide what it takes to support a major ballet company that compares with the likes of those on the East Coast, but somehow one of America's most beautiful ski capitals has discovered how to do it. Ballet West has truly come of age and the people of Salt Lake City are celebrating as the nation recognizes this National Ballet.

Ballet West presents a classical Nutcracker choreographed by the famed Willam Christensen who founded the San Francisco Ballet and also Ballet West. The Party Scene incorporates many young dancers and party parents in exquisite costumes with trimmings of gold. Drosselmyer is mysterious and magical with long grey hair and a scary eye patch. The divertissements are traditional in sequence and in presentation. Throughout the ballet, many lead parts are danced as pairs accompanied by additional artists. The Snow Scene and Waltz of Flowers incorporate large corps of sixteen. But what really sets Ballet West apart from so many others is the company's overall artistic ability, the corps de ballet amazing presentations of synchronous choreography and the level of artistic expression filled with emotion and feeling.
The Party Scene opens to a young Clara and Fritz peeking though the doorway into the Stahlbaums grand living room with giant marble pillars, four grand chandeliers and a beautiful tree in front of a great window with the night's stars visible in the background. The children are wearing colorful dresses with frilly white bloomers and the little boys are dressed in coats. The party parents have full-length elaborately decorated dresses trimmed in gold with feathers in their hair while the men are dressed in black for this white tie affair. Drosselmeyer's gray hair matches his silvery vest, accompanied by his "mini-me"; the Nephew. Drosselmeyer presents his magical dancing teddy bear dressed in lederhosen and an amazingly delicate doll in pink dances wonderfully as a hint of the artistry to come. Drosselmeyer seems to be in his own magical world as he orchestrates the dancing and presents the Nutcracker doll to Clara, which of course Fritz wastes no time in breaking when Clara shows it off to her friends. Clara falls asleep on the living room chaise and is soon in a world of adult sized mice and little people soldiers dressed in red and blue. When the Nutcracker stabs the mouse king, the mouse that is second in command checks his vitals and announces that he is dead. All the mice mourn throughout the laughter. Drosselmeyer magically makes the beautiful candle-lit tree grow to the ceiling as the Nutcracker turns into a prince and whisks Clara off to a land of snowflakes.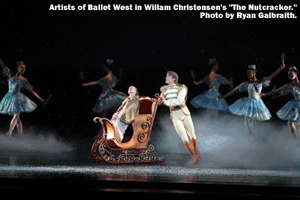 The Snow Scene is framed in tall branchy trees backed by a dark blue sky of stars and a falling snow as the Snow Queen and her Cavalier appear, Annie Breneman and Beau Pearson (dancers differ depending on performance). The two are dressed in brilliant white as they are soon surrounded by sparkly powdered blue Snowflakes swirling around them holding pretty soft blue pine branches. The large corps of Snowflakes is often grouped in quads as you get caught-up in the beautiful snowstorm of extremely talented dancers in a breathtaking choreography of a dreamy wintry night. Timing is flawless. The artistry, amazing. The Snowflakes and their two snow stars celebrate as one, in a magical stylistic storm; a classic holiday sensation.
Act II opens to a golden palace as Clara and the Nutcracker Prince are greeted by the Sugar Plum Fairy in a delicate pink tutu wearing a long golden lace cape around her shoulders. Clara, still in her bed gown, changes into a pretty pink tutu and point shoes to match the Sugar Plum Fairy. The Spanish trio starts the celebration of dances with a male lead wearing a Montera hat and his partners in with flowery combs in their hair. The Arabian dancer in a purple and gold vest and turban is accompanied by four beautiful Arabian ladies, holding up two magic carpets. As if he were a magician, he makes his partner appear from behind them in this creative and fun adaptation. The five Chinese dancers, dressed in blue and yellow, twirl their umbrellas followed by the always beautiful Mirlitons. Five Russian dancers energize the house, followed by the comical Mother Buffoon with her eight dancing Buffon children and one who performs flips to conclude.
The Waltz of Flowers, lead by Haley Henderson Smith and Easton Smith, were accompanied by sixteen Flowers dressed in pastel multi-petal dresses and bodices laced with flower bouquets. A garden of soft colors enhanced by the pairing of these two talented dancers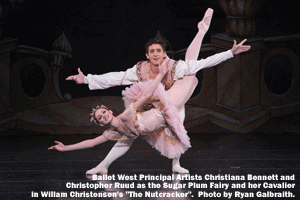 reintroduce the magnificence of the corps de ballet and the Christensen choreography.
The grand pas de deux, performed by Christiana Bennet and Christopher Ruud, was graceful, delicate, and touching; simply bursting with emotion and talent. A perfect pairing of strength and beauty, providing a demonstration of artistic perfection.
If you are going on a ski trip to Salt Lake City, remember that there is also some great snow downtown at the Capital Theater. Ballet West's Nutcracker has some of the best snow that Salt Lake City has to offer. Visit: BalletWest.org