Brad Maxwell
Media Business Executive who morphed into an artistic soul to become a webmaster, writer, photographer, party parent and balletomane.
Born and raised in Southern California and being one void of the desire to leave the land of coastlines and ski slopes…not even for college, Brad decided to start his education at Pepperdine University, based in the coastal city of Malibu -- a city synonymous with the Southern California beach life. There he was able to obtain a bachelor degree in Business. Next, he was off to Troy, the Greek land of intellectual Trojans based on life hundreds of years ago BC where he attended the USC Marshal School to receive a Master degree in Business Administration.
A 32 year employee of the Los Angeles Times, primarily working in the Finance Department as a Corporate Business Planner, he ended up leaving the paper in 2008. His last two years at the paper were spent managing the business side of
www.LATimes.com, a high profile position as the senior financial leader for the Interactive Department.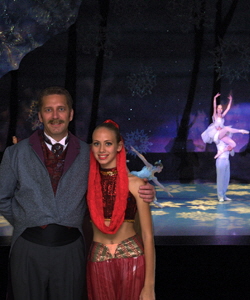 Not one to ever sit idle, even while at home, in the late 90's Brad started moonlighting as a webmaster creating sites for horse breeders, board games, technology contractors and, of course, for ballet companies. Ballet projects seemed to fall into his lap since his second child of three, Nicole, became more and more talented as a ballerina obtaining bigger and grander parts. It was, to say the least, a very exciting time -- especially when he somehow got roped into playing a party parent in the first Act of the Nutcracker. A role he played for seven years allowing him to share many hours backstage with his daughter -- creating memories that are just as vivid and treasured today. www.NutcrackerBallet.net was Brad's first endeavor into the world of online content publishing, marrying content with advertising to support the business.
Within months Brad started another site called www.BirthdayPartyIdeas.com collecting, editing, organizing and publishing party plans written and submitted by parents across the nation and around the world. The world's largest collection of Birthday Party Ideas and a place that motivates the reader through inspiration to throw the best party possible ensuring memories that will last a lifetime.
As the party site began to grow, Brad realized the need to add his own original featured content. So he started traveling and writing stories combined with photo shoots for articles on the party site featuring birthday party entertainment facilities like Laser Quest, Roaring Camp Railroads, Studio Seventeen Spa and Salon, and many others that offer birthday party services.
In 2002, Brad wanted to expand on the Nutcracker site and began traveling across the nation to experience and review Nutcracker performances by some of the best ballet companies in the nation. You can find them all at the Nutcracker Review list page. Brad's reviews focus on entertainment quality, creative changes to the norm, emotional impact, staging, transitions, character relationships, choreographical magnificence, consistency of talent throughout the performance, and the brilliance of featured scenes like the the Party Scene, Snow Scene, Waltz of Flowers, and the Grand Pas de Deux.
Be sure to get your tickets for the Nutcracker and experience the magic that moves you through performance art!