Denver, Colorado - The Colorado Ballet
Rocky Mountain Nutcracker
November 24, 2007 - By Brad Maxwell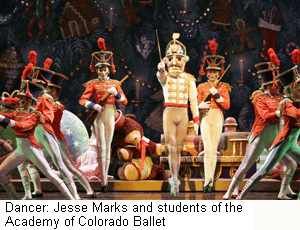 With the snowcapped Rocky Mountains only ten miles away, they're always in the background looking over you like a friend or a companion. As you breath in the crisp blue air of the Mile High City it's no wonder that people have rushed to Denver since 1858, when it was gold that drove settlers to its riches. Today it's not the riches of gold but the beauty of the countryside and the magic of the Colorado Ballet. You can realize the beauty of The Nutcracker performed by the Colorado Ballet, November 24 through December 24th at the Ellie Caulkins Opera House.
The Colorado Ballet's Nutcracker strikes it rich! With talented dancers, beautiful costumes, colorful sets and the festive music of the Nutcracker Orchestra filling the mountain air. The star performers dancing as the Sugar Plum (Sharon Whener) and her Cavalier (Igor Vassine) are expressively dramatic and spectacularly synchronized as they radiate the essence of the Tchaikovsky score. The Company Soloist playing Clara (Dana Benton) who's post Battle Scene dance with the Nutcracker Prince (Viacheslav Buchkovskiy) provides a wonderful prelude to the Snow Scene.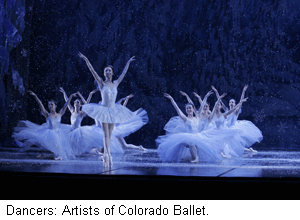 The story line of this Rocky Mountain Nutcracker is served-up as a traditional fare, with exciting enhancements like: the incorporation of male dancers into the divertissements providing spectacular lift's and twirls; a Snow Scene incorporating four Crystal dancers along with a corps of twelve Snow, swirling around Clara as she dances with her Nutcracker Prince, and a very magical Drosselmeyer (Gregory K. Gonzales) who not only creates a Doll (Sayaka Karasugi) that dances, but also partners in a dance with her.

Act I opens as Drosselmeyer works in his clock shop dressed with a black cape, a top hat, eye patch, knickers and buckle shoes. He arrives at the Stahlbaum's house with it's large rustic wood beamed ceilings and pink walls. Drosselmeyer stacks his gift boxes up and opens them to reveal his dancing Doll and then a Soldier. Not only does he make the Doll magically dance, but he also dances with her, lifting and spinning her, showing that he is more talented than a typical uncle. The Snow Scene opens to a soft white icy forest with a backdrop of trees perched on the side of mountains. Sixteen dancers fill the stage swirling around as Clara and the Prince take center stage.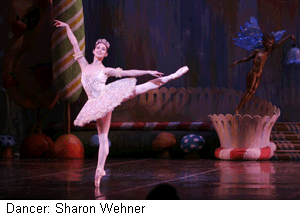 Act II open s to six youn g Angel danc ers in front of a cand y castle (Kingdom of the Sugar Plum Fairy) surrounded by candy mushrooms and candy-cane trees. The Spanish dancers, dressed in yellow and red, dance with their hands on the hips alternately being lifted by the Spanish gentleman. The hypnotic blue Arabian couple are followed by the Chinese pole dancer leading a long Chinese Dragon and then by an acrobatic Russian troupe who spin and clap. The Dew Drop dressed in a blue sheer gown, leads the colorful Waltz of Flowers with a bouquet of beautiful blossom skirts.
The Colorado Ballet's Nutcracker is a seasonal classic to be shared by the entire family. Performances are held at the Ellie Caulkins Opera House, a magnificent theater with the most comfortable seats around. Tickets: (303) 837-8888